This Site was born on 11/01/02, Come enjoy. Due to lack of time this site is pretty much not completed, but there is a ton of good info in here as it sits.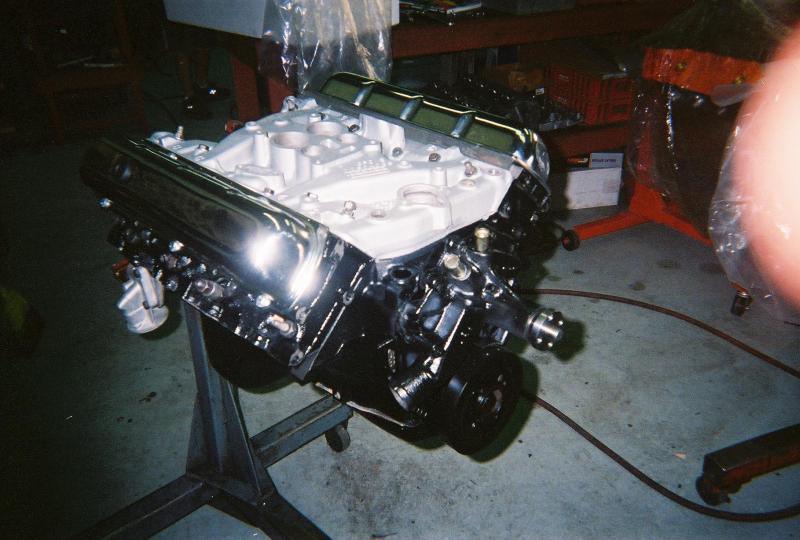 Welcome to the website that can help you make your 307 Oldsmobile perform better
No matter what someone else tells you the Olds 307 can be a good performer and you don't need to swap in a 350 to be fast even though a 350 will get you power easier, a 307 can be fast also, though it is and will never be a wheelie poping 10 second strip runner it can be a good street engine and mild strip racer with a broad powerband and enough power to win some red light grand prixs and surprise the unexpecting red light racer with the right work, very little money and some time. On this site you can find tech articles and information on how to mildly modify your 307 with little cash while someone extremely modifing a 307 will still find a lot of info in here that they will and may need to know. I own an 85 buick Riviera sister of the Toronado, it is a FWD car powered by the Olds 307 from factory but after 8 years of owning it H have swaped the 307 for a 403, but I have messed with just about any car that came with a 307 which is most Buicks and Oldsmobiles from the years 81 to 85 and some cars even keep the 307 'till 1990. I hope this site will help you get better performance out of your 307 or any small block Olds because anything that will work on a 307 will also work on a 77 and later 350 or 403 especially if you have swaped a 350 or 403 in the place of your 307. First thing you must know is that there are two different 307s made by Olds, read below to better understand the two engines. Also if you are planning on really getting to know your Olds engine, Carb and ECM system you will need a GM service manual. Though a junky Chilton or whatever will leave you hanging because it is kinda short on info it is still better than nothing. Check the link below to order a real service manual or visit your dealer .
Click Here To Order A Real GM Service Manual
There are two 307s made by Olds! The 5A heads were used on the '80-'84 "conventional" (non roller) 307s. The 6A and 7A heads fit the later ('85-'90) roller lifter 307s. The last year for Vin "Y" code 307s with the conventional valvetrain was '84. (The Vin "9" code continued to use the conventional valvetrain for another year or so along with the 5A heads) from that point they all went to the roller valvetrain. Just look on the driver's side of the engine on the heads by the number one spark plug for a casting either 5A, 6A or 7A, you might have to clean some junk off the heads to see if it is a dirty engine. The 5A head 307s have larger ports about the same size as the 350 and will share and interchange the same intakes as the 350 or 430, the 5A head 307s will spin to 5000 RPMs easy. The 7A head 307s have smaller swirl ports so that they would have better economy but they don't breath well so max RPMs are limited to 4000 RPMs with a stock Vin Y cam, they also only except the stock intakes (A5) and trying to bolt other Olds intakes will cause turbulance and poor performance. The 6A heads are kinda a mistery, they are found mostly on early 85 GM cars with 307s, the 7A and 6A share the same (A5) intake and the 6A heads also has the smaller swirl ports as the 7A heads. There are not many 6A heads going around so that gives me the idea that GM must have not liked the design or they would'nt of started using the 7A heads.
If you know anything about the 6A heads I would like you hear what you know just email me.

Every car needs a Fire Extinguisher and a heavy duty set of wire cutters I have always carried one and I have had to use them 3 times in the 6 years I have owned my Riviera,
1st. I was pulling a trailer when I overheated real bad and oil started coming out my valve cover onto the hot exhuast manifold and just lite up, I put it out with my extinguisher before it could damage anything
2nd. I was driving and a plastic bag that I drove over just stuck right onto my muffler (back when I had a muffler) so for the next couple of days I was wondering what that burning wax smell was but one day after a long idle with the A/C on I seen black smoke coming from under the car so I put the fire out before it could damage anything.
3rd. For some reason my stock ran cable that runs from the battery to the starter got pinched between the Idler arm and frame on a sharp left hand turn and up went the electrical smoke, that time I did not use my extinguisher NOPE I used the next important thing that all people should carry in their car, MY heavy duty wire cutters, I cut the battery cable right at the battery to stop the smoke and saved my car. If you have a eletrical fire the burn will keep burning no matter how much you spray it with the extinguisher, you need the kill the connection to the battery and the cable is hot so touching it is not an option thats when you will need good heavy duty cutters!!! Just some info that might same someones car!!! Oh yeah always test your cutters on an old battery cable to see if it will tackle the task of cutting on the first crimp also make sure your extinguisher is mounted so it wont knock you out in an accident and dont leave it in the trunk incase you are stuck in your car you can still reach it!!!

Mongoose from Oldspower.com lost his 88 cutlass

Carry a Extinguisher & Cutters!

Never sweat the future, because it hasn't happened yet, It is better to experience something bad once, then relive it, as though it really is happening, a billion times in your mind. Your actual experience is usually never anywhere nearly as bad, as what you imagined it would be, and many times we find good, instead of bad--Dwight

Rear Gears are your 307s weakest link!


Yes sir, bone stock they can be very slow with 0-60 times as bad as 13 to 15 seconds but I have been able to make some 5A head 307s run 0-60 in as low as a low 7 seconds and even high 6's but going that fast will never be possible with the nasty gearing your Vin Y 307 has stock. A stock 307 Vin Y usually comes with gearing ranging from 2.14 to 2.73 both are not good for performance, the 2.73 will get you by kinda well sort of but you will still lack a strong launch off the line, any # lower then 2.73 will never be able to rip tires very well. 3.23 to 3.73 is best for performance it is the best single performance gain for your 307. Nothing will put more power to the ground from your 307 than gearing changes.The 3.23 rearend gears can be found in any full sized GM station wagon with a 307 and 200-4R combo in it and you should be able to find one in a junk yard. If you guys running 307s are looking for a cheap upgrade you could find a non-posi rearend gear from a station wagon. As for you Toronado and Riviera guys your stock 2.73 Final drive can be swaped for a 3.15 final drive from any 82-85 Eldorado or Seville if you run 205/70/15 tires then that would be equivalent to 3.23 if you are lucky you can find a 3.36 from a T Type Riviera.I suggest you find out what gearing you have right now!
Other pages on this site are>>>
Supported By Jesus